Drag Queens Super Fish
Check out Mary's Latest Work
Army Gal Twinkles Fi Fi Foo Foo
Dream Lover
Click on any image, all dolls stand 3 feet high, mounted on wood base. Dolls are made of paper, wood, wigs and paint.
Hand crafted paper Mache' dolls standing approx. 3 ft. tall!
Most dolls shown are $160. each Freight Extra
Check Out the Cowpeople Traveling to Calgary: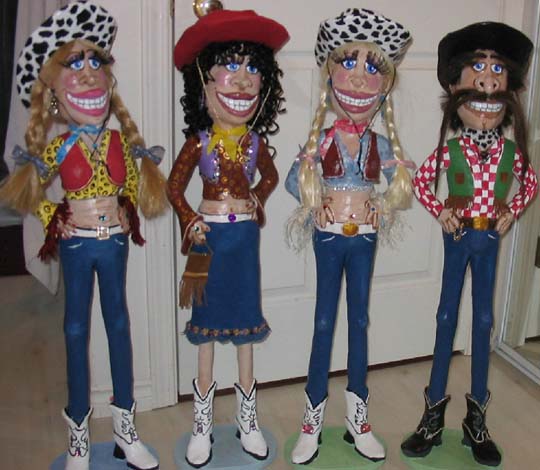 Mary has made over 100 different characters such as doctors, stressed out lawyers on vacation, coffee drinkers, hippies, teachers, chickens with long legs, geeky nerds, R.C.M.P, city police, barbecue Bob, business men, Uncle Sam, nurses, angels,cowboys and cowgirls. Dream up your own character or choose one of these and let Mary make it for you!

Contact Information (request for more pictures sent to your e-mail address too)
Contact Mary directly at: mary@decodolls.com